Repair / Restoration
I started my career working in a specialty instrument repair shop, so I have a pretty solid background in this kind of work. Today I take in repairs only when I have the time, since building new guitars is what I mainly do.

High quality classical and flamenco guitars should be built with repairability in mind. Traditionally made guitars were typically built with hide glue (reversible) and finished with french polish or oil varnish. These were very repair friendly guitars. Quality violins are still made this way.
Factory made guitars are generally more difficult to repair. They are built using irreversible adhesives like epoxy or polyurethane, and sprayed with industrial finishes like polyurethane. These modern finishes offer good protection, but can be difficult to repair. In short, some can be fixed, some cannot.
So how a luthier can approach a repair/ restoration job, will be determined by how the guitar was made.

Traditionally built guitars are easier to work on. I do a lot of french polish repair work, which may entail refreshing the finish and filling dings. Re-frets, set-ups, nut, saddle, and structural repairs are common jobs.

Here are pictures from some recent and not so recent repair jobs:

Ramirez 1A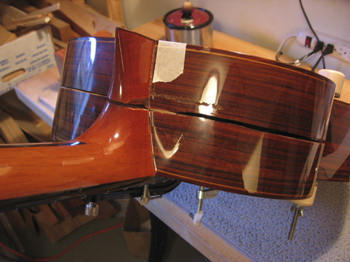 The guitar shown is a badly damaged Ramirez 1A. It was actually vandalized, but the owner spared me the details on how it happened. The sides were split right to the waist of the guitar. The fingerboard was bent and peeling off the top. The upper transverse brace was knocked right out. And there were at least 10 major cracks that needed to be re-glued and reinforced.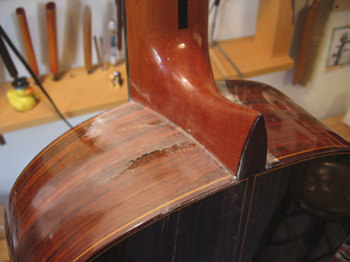 At first I turned down this repair job. I knew that I could handle the structural aspects of the repair. I was more concerned about the finish. Ramirez guitars are coated with a polyester conversion varnish, which is very difficult to repair. I usually stay away from trying to repair this kind of finish, but I felt like I could not let the owner down, and took on the job.In this photo I'm progressively building up the finish, and sanding it back.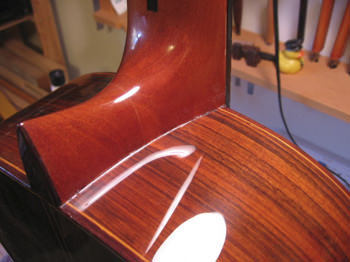 Here's a photo of the neck block and side after completion. It turned out very well! The total time logged on this repair was about 50 hours. I've excluded other pictures of the repair but you can contact me if you want to see more of them.










---




Here is a photo of a guitar built by Miguel Rodriguez. It was brought to my shop for some French polish touch up. The top is redwood, back and sides are Brazilian rosewood.












---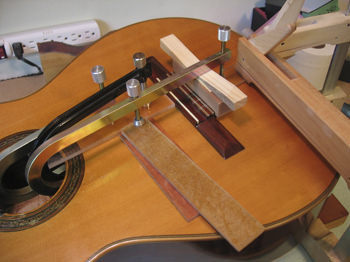 This photo is of a guitar made by the legendary Manuel Velasquez.

The guitar was brought to me for a bunch of relatively minor repairs. Here, a top crack gets glued together with hide glue. The crack will later be cleated on the inside, and touched up on the outside. Oil varnish was Manuel's finish of choice.







---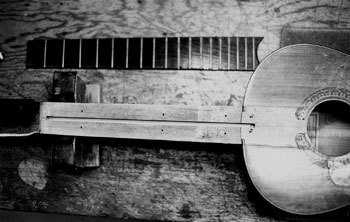 This is a picture of a 1972 flamenco guitar made by Eladio Fernandez of Almeria, Spain. Eladio never became too well known outside of Spain, but his brother Gerundino became legendary for his flamenco guitars, and made many guitars for Paco Pena. My friend found this guitar at a garage sale in Victoria for $15 !

Its neck was badly warped, possibly because it was built with white glue and suffered "joint creep" over time. I removed the fingerboard, routed a channel in the neck, inserted a graphite rod in the neck, and replaced the fingerboard. This fixed the neck warpage. Pictures was taken with an old non digital camera I had loaded with black and white film.